DIAPHANES Issue 3
Time Probe Zero Synthesis
Where is the present? How is the past changing? What will become of the future? In the third issue of DIAPHANES MAGAZINE, authors, artists, and discursives try out their respective time probes in images, voices, texts, and assemblages.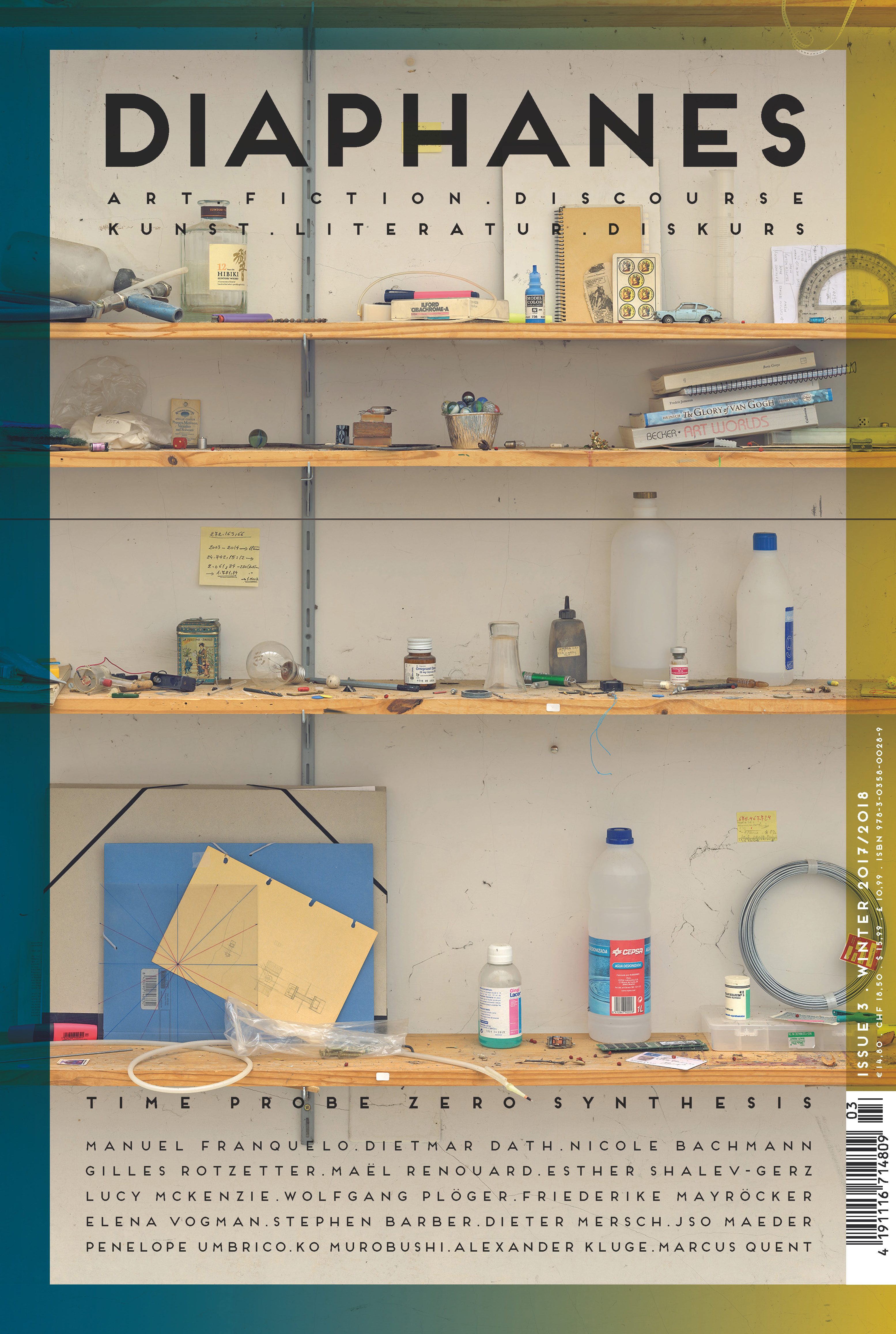 With Things in a Room DIAPHANES presents the rarely seen photographic work of Manuel Franquelo, who shows himself to be an artist of pioneering radicalism in an in-depth interview. In After This Comes That Before That Comes This Wolfgang Plöger works with the results of Google searches and Penelope Umbrico with the structures of the Flickr platform. Dietmar Dath's text "Your Sprache Never Was" tells of the loss of faith in language, and Maël Renouard speaks of the "psychopathology of digital life," while Stephen Barber pursues the prophetic force of J.G. Ballard's last draft novel World versus America. Dieter Mersch pleads for a critique of "Algorithmic Reason" in the face of an all-embracing algorithmization of life, and Marcus Quent, in his essay, seeks a way out of the "absolute present" following the loss of "belief in the world."
The magazine also includes Corporate Love, paintings by Gilles Rotzetter, and Substation, a joint installation by Lucy McKenzie, Markus Proschek & Philip Topolovac, along with poems by Luc Meresma and the legendary butoh dancer Ko Murobushi, and an essay by Elena Vogman on "Andrei Bely's Rhythmic Gesture"—and distributed throughout the issue are Jso Maeder's images with time codes and several texts by Alexander Kluge.
NO W HERE, the double page in the middle of DIAPHANES, shows Inseparable Angels, by Esther Shalev-Gerz, and with Futur Pluperfect Christine Tauber opens a new rubric that visits the relics of visions of the future in the image spaces of the past.

The Questionnaire is compiled this time by performance artist Nicole Bachmann; Friederike Mayröcker has sent in a text for I Remember, while The Artful Flaneur visits a street in Sao Paulo; and as usual you'll find Barbara Basting's Facebook column, the rubrics Listmania, The Transversal Shelf, Dear Paul, and much more.

Subscribe now and receive the current issue with the "Shut your eyes and read!" DIAPHANES bag.
We wish you inspiring reading and a great start in the new year!