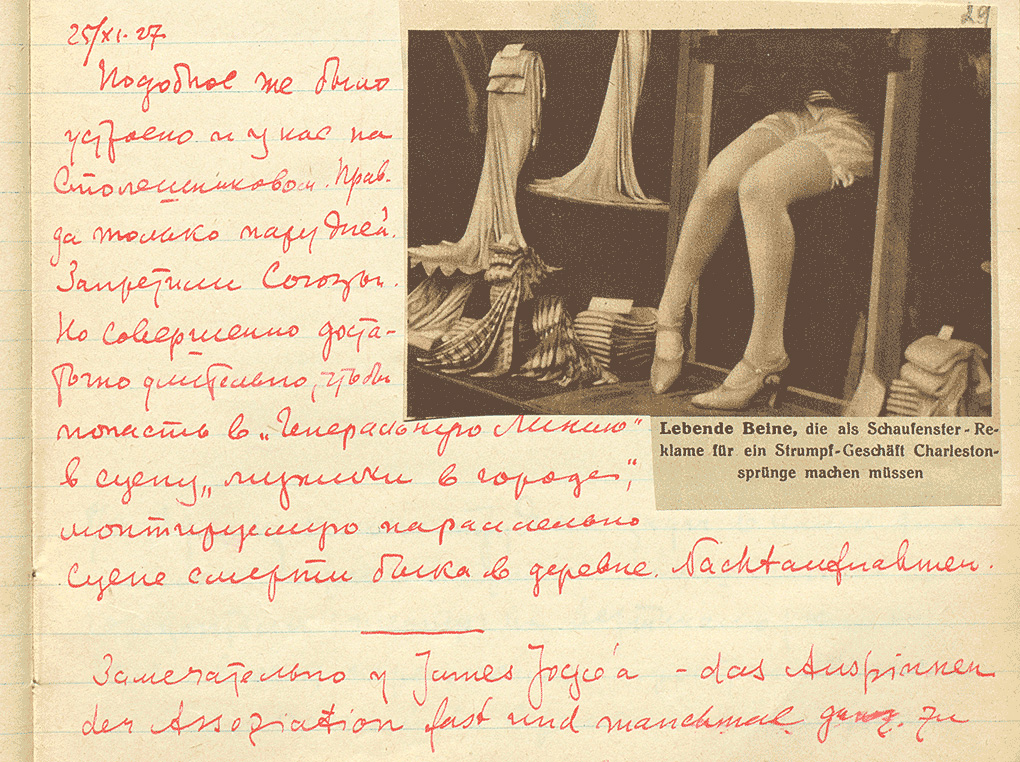 Abb: Sergei Eisenstein, Diary from 1928, RGALI, Moscow
Mit:
Alexandra Selivanova (Moskau)
Daniel Muzyczuk (Lodz)
Aleksandra Jach (Lodz)
Moderation, Einführung: Ekaterina Tewes, Georg Witte, Elena Vogman
In Englischer Sprache
"The scope for exhibiting the work of art has increased so enormously with the various methods of technologically reproducing it." In this way, Walter Benjamin describes in his Work of Art essay the transition between the order of magic and that of technological reproducibility. Reproducibility establishes the "exhibition value" of the artwork, which denotes both its quantitative ubiquity and its qualitative novelty. For Benjamin, reproducibility turns the artwork into "a formation with entirely new functions [ein Gebilde mit ganz neuen Funktionen]."
The atelier aims to explore the condition theorized by Benjamin as it relates to the process of exhibiting archival materials, a perspective that has not been considered in the wide-ranging discussion of Benjamin's theory, limited as it is to the field of art. What does it mean to exhibit archival materials today? How do the procedures of reproduction, digitalization, visual display and recontextualization open up new possibilities of constructing history, the process of reading and revaluing it?
In three curatorial positions, those of Daniel Muzyczuk (Lodz), Alexandra Selivanova (Moskau) and Aleksandra Jach (Lodz), the aesthetic and epistemic implications of exhibiting archival work will be discussed within the context of the atelier. The exhibition "Eccentric Values after Eisenstein," located in the same space as the atelier, will provide an additional framework for these questions by relating them to Eisenstein's theory of montage, understood as a tool of vision, rather than a mere technical procedure of cinematographic production.
Im Rahmen der Austellung »Eccentric Values after Eisenstein«